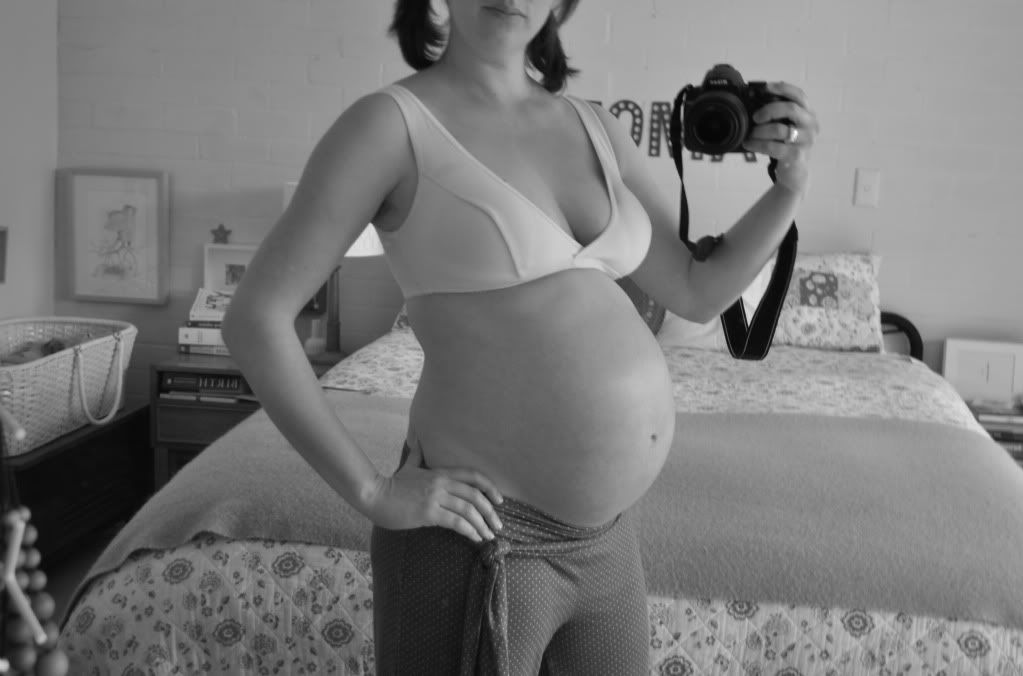 Time for another bare belly shot, I thought. Before it's gone. (Just excuse the daggy nursing bra).
I am endlessly fascinated by how this little one fits and feels within my body. The round, firmness of a pregnant belly is just so soothing...and it's a beautiful feeling to know you are carrying a precious little being around with you.
We had our check up with the midwife today and were pleased to hear that the little one is 3/5 engaged, perched in a lovely position, head down with spine curved gently on my left side. I've been practicing cat pose (when I remember) and being careful not to slouch on the sofa or in the car, so maybe my diligence has paid off. It comes at a price though (one I'm very happy to pay for a well-positioned babe, mind you)...I can't enjoy a long soak on my back in the bath anymore. Boo.
Speaking of such matters, we're planning on having a water birth (all going well) as the idea really appeals to me and they can facilitate this at the birth centre we are going to, so any advice, reading or links on this subject are more than welcome. Is it very different to a birth 'on land'?
Ps. Big love to Meu Amor, Papa-to-be. Who I know will make the most achingly beautiful father. Hope you liked your fathers day reads -
one
for you and the little one...and
one
for just you.