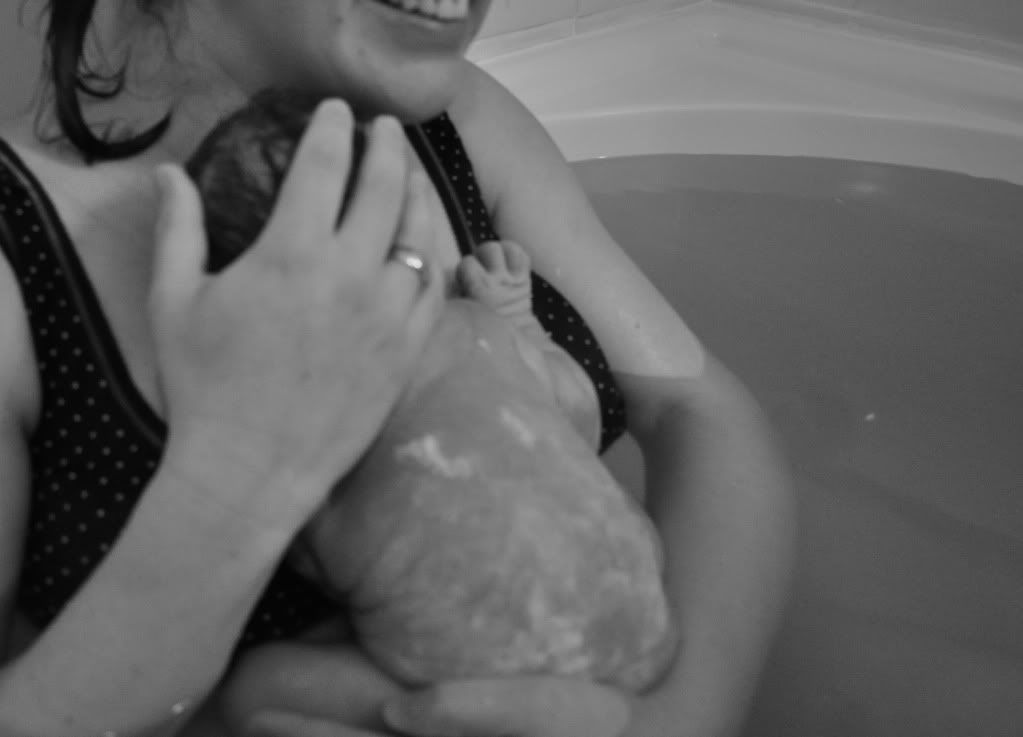 Monday night I went to bed early while K stayed up to work. My 41 week appointment with our midwife was scheduled for Tuesday morning and we were going to discuss plans for an induction. As I settled into the pillows I reached for my
Birth
book to read up on induction and thought, no, I should wait until the morning. I was conscious of remaining positive and 'in the moment', and didn't want to go to sleep thinking about interventions.
Just before midnight, as K climbed into bed, I felt the first twinge of heavy period pain. I kept quiet for the first few waves, as I wanted to make sure it was the real thing. A few nights earlier I thought I was having contractions, and had bitterly disappointed K when we realised it was a false alarm. When I was sure that what I was feeling had some real purpose and power behind it, I gently woke K up and we both lay there quietly, but full of anticipation, excitement and curiosity.
As each wave began I would wake K who was lying behind me, and he would reach around and hold my belly through each contraction. I was using the Ujjayi breathing techniques I learnt in my pre natal yoga classes and the soft ocean sound was comforting and relaxing. I felt strong and focused, and soothed by the thought that the three of us were working together. The contractions continued into the early morning hours, irregular and mild, varying between 4 to 15 minutes apart, and allowing us to nap in the longer stretches.
I felt full of hope when the sun came up and knew that my baby would be born today. There was something comforting and promising about the daylight hours. Just before 7am I rang my Mum and told her I was in early labour. I felt quite emotional and teary when saying the words aloud. K kept holding me and rubbing my back, and we stayed downstairs in bed as I didn't feel like moving much. He reminded me to keep my mouth and jaw relaxed, and I kept thinking about 'letting go', trusting in my body's perfect timing and design, staying present, and 'letting go even more'.
My midwife texted me to see if it was still ok to come around at 10am for our appointment and I rang her to let her know my contractions had started. Great timing, she said, I'll be over to check your progress. We started listening to the
relaxation
I'd been using throughout my pregnancy and waited for her to arrive. Everything felt very calm and I was surprised at how manageable the rushes were with conscious breathing. By the time the midwife came, accompanied by our lovely student midwife, Jade (who had been with us since the first appointment), I had made my way upstairs and draped myself over a swiss ball. Being on all fours felt right. I could still maintain a conversation with pauses for the stronger waves, and when my Mum turned up with tears in her eyes we all started laughing (I always thought people who said they cracked jokes in labour were making that up - but it really is possible to get the giggles during such a momentous occasion!).
An examination revealed I was 3cm dilated and the baby's head was firm against my cervix. My midwife told us to continue labouring at home if we were happy to do so (we were) and to make our way to the Birth Centre once the contractions maintained a more regular pattern for half an hour or so and were 2-3 minutes apart. Almost as soon as she and Jade left we noticed that the rushes were coming more frequently, 2 mins apart. It was turning into a bright Spring day outside but I felt quite cold. Mum and K layered blankets over me and I lay down on the floor. At some point I remembered the list on my dresser which detailed the things I still had to pack in the hospital bag, but that all seemed insignificant now and the waves were needing my entire focus. I remained calm and quiet, and K timed each contraction.
A half hour of regular contractions passed but I felt strong and confident I could stay at home a little longer. I was back on all fours, swaying my hips, breathing deeply and focussing inward. After about an hour I felt the intensity had stepped up and all of a sudden I knew we had to leave for the Birth Centre. Mum and K ran about gathering our bags and I grew more and more eager to be on our way. Outside it was warm and as I made my way to the car I remember thinking, next time I'm walking up the path to our house it will be with our baby. It made me smile and gave me a surge of energy.
The car ride to the Birth Centre was surreal. My contractions had slowed a little and both K and I thought it was hilarious that the people driving next to us had no idea that I was in labour. I guess it was just an ordinary day for them, but it was such a momentous occasion for us.
When we arrived at the Birth Centre, just before midday, Jade had prepared the room for us and I immediately curled over the swiss ball. The room was comfortable and familiar. K kept offering me sips of water and handfuls of gummi bears, and Mum was popping in and out of the room with words of encouragement and food for K. The waves were getting stronger and I was becoming less aware of what was happening around me.
It was at this point that I started my birthing roar. Oh my, it felt so good. It came from deep down inside and startled even me at first, but once I started, I couldn't stop. I'd throw my head back and move with the sound. As I'd wind down after each rush, K and Jade would offer encouragement and tell me how well I was doing. I felt strong and courageous.
After about 2 hours of labouring on the swiss ball and floor mat, K suggested I get into the bath. The water was soothing and warm. I was still on all fours and roaring with each wave. Soon after getting in I had the urge to start pushing, and both Jade and my midwife encouraged me to do so if it felt right. The surges would roll through my body, and at first I was quite surprised by their force and the intensity but they provided a rhythm and a focus and I tried to work with them, trusting in my body and my baby. This felt like the hardest part of the birth but I was determined to stay strong and active if my body would let me. I remember my midwife exclaiming, oh Claire, reach down between your legs and you can feel your baby's head. I was shocked and elated that I had already birthed the baby's head....but when I reached down I realised it was only a small patch of head that was protruding. I almost had the energy to laugh. I was so conscious of staying positive but at this point I was exhausted and aching from all the pushing, I cried to K, I can't do this anymore. My midwife turned to K and said, well, it won't be long now.
It wasn't until I changed positions, squatting in the bath with my back to the birthing team (Jade, Kleber, my midwife, Mum and K's Mum - who had only just arrived and was nervously praying in the background!), and almost an hour and a half later, that I realised how close I was to birthing my baby. The thought of holding my baby, and if I'm honest, relief from the intensity of the surges, carried me through the last half hour of pushing. I gripped the wall rails with fervour, relished in the warmth of the water poured over my back in between contractions, and gathered all my energy, energy that I didn't know I had, to help bring my baby to me.
I roared with relief when her head was born, and reached down to feel her soft hair waving in the water. She opened her eyes and looked straight into the mirror K was holding, looking for her Papa. I waited for the next wave and then guided her body out and back between my legs. Jade scooped her up, passed her to me and she curled up quietly on my chest. I held this little being, shaking and sobbing
with such joy.
My firsts thoughts were: I really did this, I'm so grateful my baby arrived without complications and is healthy, I feel like I could smile forever. My first words were: my baby, my baby, my baby (repeat x 15). I was so overwhelmed and fascinated by the baby in my arms that I took me a while to hear K and my Mum urging me to check whether we had a little boy or girl.
We have a daughter, I smiled.
...A heartfelt thank you for all the lovely comments left on the blog after Saskia's birth. I was touched by your words and feel very lucky to share our story with such a supportive, inspiring, genuine and kind (online) community...x