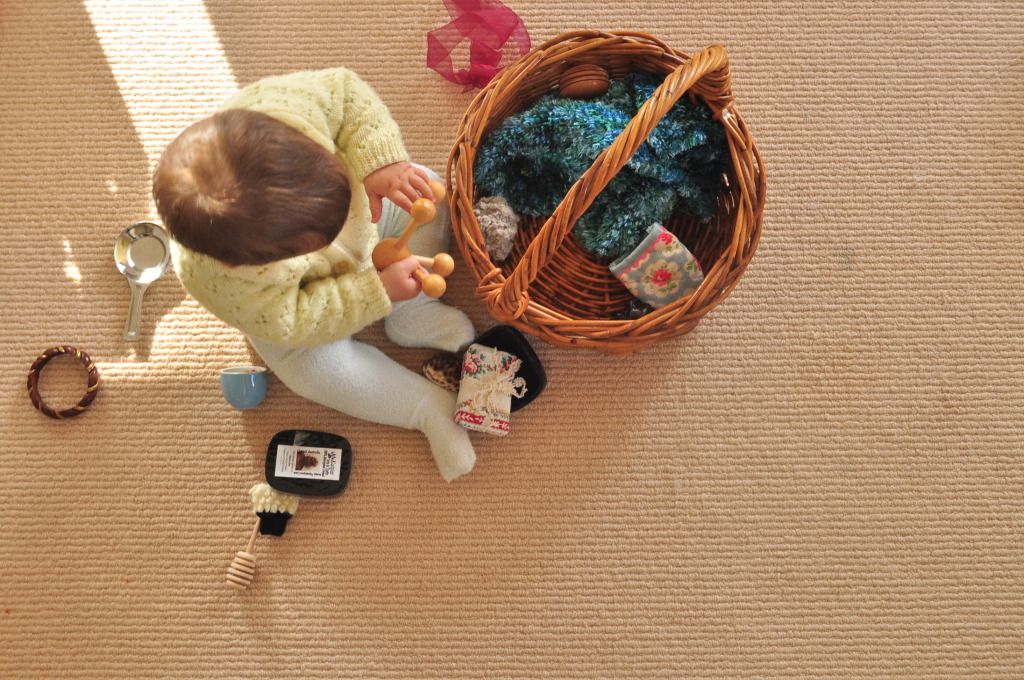 The
original Magic Basket
had begun to lose a bit of its appeal after a few weeks. I think she had inspected every inch of most of the items and honestly, seemed a little bored. We had even swapped baskets with Saskia's little friend Tilly for a few weeks, which was an easy way to present a whole lot of new treasures (even though the hunt can be the fun part). After our trip up north and the recent bout of sickness, I realised I still hadn't had the chance to put together a new basket. A bit of digging around, some help from JanMa and a few trips to garage sales later, we now have Magic Basket number 2.
Number 2 didn't have quite the same impact at first. This time she only pulled out a handful of objects and then crawled away, not showing much interest in going back. After a few days of similar sessions, I added some of her treasures from the original basket and this seemed to reel her back in. There's a small glass milk bottle that she can't get enough of. She blows and talks into the small opening and laughs. And she's quite into a little ceramic egg cup and a shell I bought on our
holiday
. She plays peekaboo with the ribbon and is fascinated by a little bobble of wood on the top of the honey dipper (don't know why, maybe I just love the shape, but this is my favourite item and I always get a kick out of her using it - funny!).
I'm glad we're using the Magic Basket again. It's such a lovely ritual, and such a good way to slow down and be in your baby's world.
*I love how each time I take photos of her using the basket, I get that dreamy golden ray effect. We try to get out the basket at the same time each day, and that spot in the house catches the most beautiful afternoon light.